Overall Course Structure
Our Chinese Character Reader course is perfect for students that know a good amount of Chinese characters and are looking to gain more practice reading full sentences in the form of stories in Chinese! This course is perfect for those that have already completed our Chinese Characters I and Chinese Characters II courses, which teach the 600 most common Chinese characters. The Character Reader course consists of 6 levels, with a total of 66 lessons across 30 units, and can be finished in as little as 3 months!
The Character Reader course is built around the 600 Chinese characters that are taught in our Chinese Characters I and II courses.
The Character Reader course is a motion comic book that tells stories about a Chinese guy named Zhang Ming. The storyline is very engaging, and acts as a great representation of Chinese culture and life!
The comic videos contain speech bubbles in Chinese characters, using super colloquial Chinese that you'll hear all the time! The videos are also paired with audio from voice actors as well, so you can practice both your reading and listening skills at the same time.
While this course is focused on improving your reading skills in Chinese, it is also designed to train your ears to the way native Chinese speakers would actually say these lines from the comics. We asked the voice actors not to slow down or change their natural pronunciation or rhythm, so students can gain more exposure to the "real world" sound of spoken Mandarin. In this way, this course is really more of a unique combination of our conversational courses (focused on conversational Chinese) and our character courses (focused on teaching the most common 600 Chinese characters). What's more, during the course, you'll also begin learning some new Chinese characters here and there, so you'll also be learning some new material while reinforcing what you've learned in previous character courses!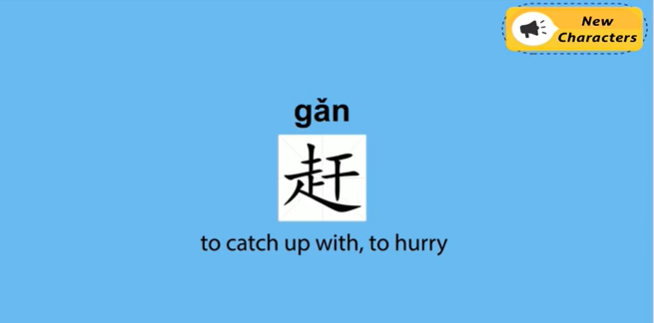 During this course, you'll:
Learn highly colloquial Chinese words, phrases and sentences
Learn how to read long sentences in Chinese
Follow a full story in Chinese
Improve your reading comprehension skills
Learn some new Chinese characters as you move along in the course
Train your ears when listening to authentic audio from native speakers
Have FUN while reading and learning Chinese
… and more! By the end of this course, you will have a solid foundation in reading long strings of Chinese characters, and will be able to read and write characters at an intermediate level.
After completing this course, your level should be around HSK Level 3.
Learning Materials Included in the Course
The Chinese Character Reader course includes a variety of study tools, including:
Lesson Videos teaching key language concepts
Lecture Notes PDFs for every lesson detailing the lesson content, including bonus material like language and cultural notes and links to related lessons on key Chinese characters and words
Interactive Language Flashcards with normal and slow speed audio, to master the key characters and words that came up in the lesson
Interactive Dialogue Replay Flashcards with normal and slow speed audio to help you master the sentences that came up in the video and also further train your ear to the audio from native speakers
Interactive 10-Question Quizzes with diverse question types, including several reading comprehension questions, to thoroughly test your retention of what was covered in each lesson
Sample Lessons
Wondering what the lessons are like? Get started with the first lesson here.
As always, if you have any additional questions about the course, feel free to message us using the chat widget and we'd be happy to answer any questions you may have!